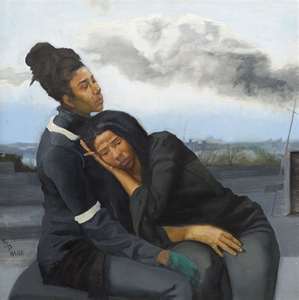 Right after my last Blog posting, a friend of my daughters' was killed.  She was 11 years old, and her mother strangled her.  This event has made for an interesting couple of weeks.  It seems as though life has had a reset button pushed and everything is different between my daughter and I. From the way I talk to my daughter, to the way she has had her concept of "mother" challenged.  From how unexpected bursts of emotion stop us in our tracks to how being each others' support moves us towards heart laughter.  From the way my daughters' innate wisdom has acted out in owning a balance of pain while choosing to smile.  To the uncharted territory I had to explore in order to create a space for my daughter to mourn in her own way, uninhibited. Full disclosure will have me telling you that the first several days of this mourning was hard, surreal, and a jumbled mess in my mind.  And the choices I made in those days was solely to be in emotional and spiritual support of my daughter BEing in whatever state she was in.  In this support, I was  faced with many moments of my own childhood when I didn't have a safe space to feel authentically, or I had to perform in accordance with a dogmatic set of rules: which left me disconnected and skiddish to trust.   As these memories flashed in the mirror of my inner world, it fueled my fire to create a safe space for my girl to pave her own unique and true process to mourn.  And in this environment of freedom she wailed, raged with anger and confusion, and sobbed with sadness for those first several days.  Between those releases of emotion, she was everything from calm to giggly.  And every moment of it was hers to be in.  I found myself pulling out my own childhood memories and emotions to relive them and heal what couldn't before.  (see below for a guided exercise in doing this)
Last Thursday my daughter decided that it was time to end the intense mourning and reset her energy.  We sat at her alter and smudged each other with sage, we rattled and drummed over each other, and she filled a stone with her love for her friend.  This stone is on her alter and I have seen her hold it and talk to it when she feels the need. I asked her how she felt after her ceremony, she simply replied "sad, but happy."  Wow, she is doing so organically what I, as an adult, have to try really hard to do.  I give great intention to allow myself to be where I am emotionally, and at the same time reach for an emotion that will motivate myself out of a dark or heavy space.  And here she is, doing it naturally and powerfully.  I am realizing this is another effect of that reset button...I thought I was to be teaching my daughter, and now she is teaching me!  She is showing me how to be more of who I am.  Because she is all that she is.  Reset button between us to an equality of teaching relationship between us. Reset button within to be what is and what is chosen as a cocktail of emotions.
All in all, I am honored to be her mother.
Now, I'm reviewing the last couple of weeks and sitting in the observations of contrasts, observations of the teachings, and the observations of quick healing when left to your inner truth.  So I'd like to offer a ripple effect to this healing for anyone who wants it.
Ask yourself the following: what memory, emotion, or belief comes up for you regarding an emotion that you weren't allowed to safely, authentically feel?  Now, see this this as a bundle of life energy that is outside of you and is relying on you to give it a safe space to be in it's process.  Give this energy permission and a circle of safety to be, feel, and move through it's emotion in a wild and true way.  What happens?  What does it say?  Does it engage in movement?  If so, what does it do?  Remain in support of this piece of you as it is allowed to be what it wasn't allowed to be before.
Once it has completed this process and returns to a peaceful state, you may invite it back into your being to radiate through you with healing and appreciation.  Or it may want to return "home" if it wasn't yours to begin with.  Take several breaths into that feeling of expansion and let it absorb into your muscles and bones.  Now, hit the reset button and go forward with more of yourself.
You can check out my website at www.inquirewithin.me for more information on healing services I offer, and upcoming events.  Many blessings to you!